Thanks to many years of experience, our team at Geddes guarantee that we can meet all of your timber requirements, starting from standard two way entry pallets and going as far as complex timber cases complete with fittings.
In our two acre yard we have a comprehensive stock of top quality timber sourced from the UK and Europe. Our white wood only stock comes in a large variety of thicknesses, widths and lengths meaning that there is nothing too small or too big for us to produce.
CASE OR CRATE?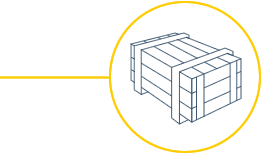 A case is a fully-closed wooden box where the boards are butted up to each other. We manufacture our cases from either plywood or softwood – or from a mixture of the two.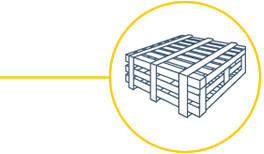 A crate is a slightly lighter and more cost-effective option If you only need to contain a product rather than having to fully enclose it.
Please do not worry about whether you require a case or crate as an experienced member of Geddes staff will be happy to advise which is the best solution for you. The end solution will depending on exactly what your product is, its weight, the way it will be handled on route to its destination, as well as how and where it will be transported.
Please talk to one of our sales representatives to discuss further options or read more about the different styles:
> Timber crates
> Timber cases