Our plywood and OSB cases are tailor-made to suit our clients' exact requirements. Often these cases are used for export packaging and therefore are also available with framing made out of heat-treated materials in order to comply with export packaging regulations.
Plywood is much lighter than traditional timber and it is due to this relative lightness that it is often used as an alternative when Air Freighting goods. It could offer substantial cost-savings when it comes to both material and transport.
Both plywood and OSB timber-framed cases are available in a range of thicknesses from 6mm to 22mm to ensure the most cost-effective solution.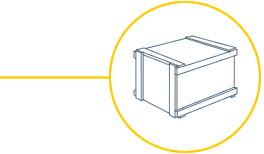 We have a range of metal-edged collapsible cases which can save on warehousing space prior to assembly/packing. These are typically manufactured from Plywood and can also be supplied with fasteners, handles for ease of carrying and/or hinged lids. Such cases can also be painted or stained to suit.
2 – Examples of our different size heat-treated stamps